ORCKA Camp Canoeing Instructor Course
This challenging ORCKA course is for those with a desire to teach basic canoeing skills, typically in a camp environment. The course introduces students to instructional technique and refines tandem and solo basic paddling skills with emphasis on:

safety
practical teaching techniques
practice teaching sessions
flatwater skill practice and refinement
Course Dates
24-28 June 2020
Course Location
This is a residential course that will be conducted at YMCA Camp Wanakita located south of Haliburton, Ontario.
Equipment Required
Bring suitable outdoor clothing for cold, wet and hot weather. Feel free to bring any personal equipment including paddle(s) and PFD that you have. This may help make your course more enjoyable.
Course Administration

for more information or registration. Students must be 16 years of age at the time of the course.
Course price is $665.00 per student. The course registration fee covers:
ORCKA Program Manual
ORCKA 2020 Camp Canoeing Instructor Membership
ORCKA Camp Canoeing Instructor instruction & personalized coaching
use of PFDs and all regulation safety equipment
use of canoeing instructional aids
use of flatwater canoes and paddles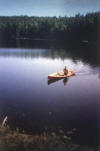 Relax while you paddle in style
All prices are in Canadian dollars