ORKCA Canoe Tripping 2 (Trip Participant)
This is a course for those starting out canoe camping! The course introduces wilderness canoe camping skills with emphasis on:

safety
canoe trip & menu planning
campsite selection and organization
camp routine
nature and weather interpretation

Letting the River take you for a ride!

---
ORCKA Canoe Tripping 3 (Trip Leader)
This course is for those who have been canoe tripping for some time and want to advance to the next stage of canoe tripping where they will become trip leaders. The course focuses on canoe trip preparation, organization, leadership and risk and crisis management.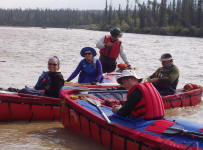 Snack Time on Trip!
Canoe Tripping 2/3 Course Dates
May 17th to 21st, 2018
Course starts at 9:00 AM on Thursday, May 17th, 2018
Course finishes by 5:00 PM on Monday May 21st, 2018
Course Location
This course is conducted while on a canoe trip. The canoe trip will take place in Eastern Ontario. Details will be provided upon registration.
Equipment Required
Each participant is to provide their own tent (or share one), sleeping bag, and personal clothing/gear. Feel free to bring any canoe tripping equipment that you would like to use on the course – especially if you'll feel more comfortable with it and/or would like to take the opportunity to add to the group's experience.
Course Pre-requisites for ORCKA Canoe Tripping 3 Trip Leader
We will need a copy of your Trip Log showing:

at least 25 nights of wilderness canoe tripping experience and over 500 kilometers of canoe tripping distances
responsibility for some of the trip organization on at least six canoe trips
at least one wilderness canoe trip of at least five days

ORCKA Canadian Style Paddling Level 1 (Tandem)

ORCKA Moving Water 1A (Tandem) or ORCKA River Running 1A (Tandem)

17 years of age or older at time of the course
Course Administration
for more information or registration.

Course Price is $715.00 plus HST per participant. Course price includes ORCKA Canoe Tripping 2/3 instruction, applicable park fees, trip food, use of canoes, paddles, PFDs, and group trip equipment.

An ORCKA Canadian Style Paddling Level 1 (Tandem) Course will be run at the start location for the ORCKA Canoe Tripping Level 3 Trip Leader course on 16 May 2018. An additional cost of $145.00 plus HST will be charged for this course.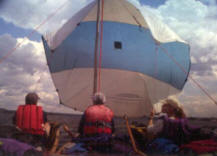 Canoe Sailing on Trip!
All prices are in Canadian dollars